COMMERCIAL POLISHED CONCRETE PERTH
Polished concrete flooring could be the ideal solution for your business. At Designer Floors, we specialise in professional polished concrete services for commercial and retail spaces. Offering a highly versatile aesthetic, polished concrete can be used to complement almost any interior design style, from sleek and professional to edgy and industrial. Easy to clean and low on maintenance, concrete flooring has the strength to handle large volumes of foot traffic, making it ideal for shopping centres, commercial offices and more.
If you're looking to use polished concrete flooring at your Perth based business, get in touch with us today.
Benefits
Versatile aesthetic
Cost-effective
Low maintenance
Energy efficient
Slip & scratch resistant
Hypoallergenic
QUICK & EASY PROCESS
After 14 years of providing concrete polishing and grinding services, we've streamlined our processes to make the entire experience as quick and easy as possible. No matter whether you're renovating your existing premises or finalising a new fit out, we'll get the work done with maximum efficiency to minimise your downtime. As we don't use any harmful chemicals during the grinding or polishing process, you can maintain operations while your floors are being serviced.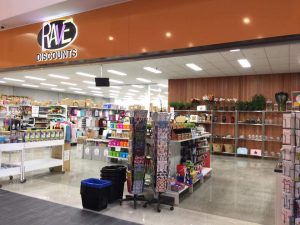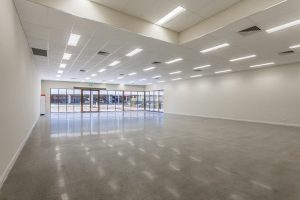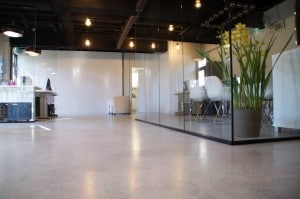 See more projects on our gallery.
CHOOSE YOUR CONCRETE DESIGN
Our team can customise your polished concrete floors to your desired level of sheen and exposed aggregate. Choose from industrial, commercial or premium stone exposure to achieve a suitable aesthetic for your office or retail space. Premium polished concrete will give your floors a speckled, textured appearance, while the industrial option will provide a more minimalistic effect. Alternatively, you could opt for our commercial level of aggregate exposure to get the best of both worlds. Either way, each style is designed to provide a classic yet contemporary look that will seamlessly blend with your interior fit out.
COST-EFFECTIVE COMMERCIAL FLOORING
There is a common misconception that polished concrete is an expensive flooring choice, however, in comparison to tiles, vinyls, carpets and hardwood floors, concrete is a far more cost-effective material. Unlike other flooring types that must be regularly replaced, polished concrete generally lasts around 10 years. It does not come with any ongoing maintenance costs and with energy efficient properties, it could even save your business money in the long term.
LOW MAINTENANCE SOLUTION
As the owner of a commercial or retail business, you have enough on your plate without having to deal with maintenance issues. While other flooring types may require professional steam cleaning, resurfacing, grout cleaning or general repairs, polished concrete floors are almost entirely self-sufficient. As a scratch-resistant surface, all it requires is the occasional dry dust and wet mop to keep it clean. If any liquids should spill onto the floor, simply wipe it up straight away and there will be no stains or marks left behind.
IMPROVED ENERGY EFFICIENCY
It's easy to assume that polished concrete will feel cold to the touch, but due to its high thermal mass, its able to regulate its own temperature. As a result, concrete flooring provides an insulative effect that can help your premises retain heat in winter, while staying cool during Perth's summer months. Not only will this assist in making your space more comfortable for customers and employees alike, it will also lead to a reduction in energy consumption.
THE SAFE FLOORING CHOICE
All businesses must uphold OH&S procedures and provide a safe environment for workers and visitors. With a slip resistant surface, polished concrete floors are a practical choice for commercial and retail spaces. Concrete is also hypoallergenic and won't trap allergens, mould, dust, moisture or bacteria, making it suitable for people with allergies, sensitives and respiratory issues. By using polished concrete floors, you'll be able to minimise potential safety risks at your place of business.  
GET A FREE MEASURE & QUOTE
As Perth's experts in concrete polishing and grinding, we're committed to delivering the highest quality results for our clients. With a proven track record and an eye for detail, you can rest assured that you will get the best possible outcome with us. Contact our friendly team today to discuss your polished concrete flooring needs and arrange a free measure and quote.