Our Process
An expertly finished polished concrete floor is as easy as 1,2,3.
Choose your level of aggregate exposure
Industrial
Zero to minimal stone exposed Polished Concrete is designed to give the industrial warehouse feel with minimal to zero aggregate exposure. This process relies on the condition and finish of the concrete floor but when suitable it is an effective style with low to high sheen options.
Commercial
Partial stone exposed Polished Concrete is a low to semi-exposed aggregate reveal which can be customised with low to high sheen. Ideal for retail, commercial and residential locations where you require a durable, hard wearing floor that is still visually appealing due to various degrees of aggregate exposed.
Premium
Full stone exposed Polished Concrete is a decorative full aggregate exposure displaying a unique and individual Polished Concrete floor that is finished with low to high sheen. Create a 'Designer' floor and make it the centrepiece of your showroom or home.
Choose your type of concrete finish
HiPERFLOOR Mechanical Polished Concrete
HiPERFLOOR Polished Concrete is a complete mechanical polished system designed by Husqvarna to provide the most durable and aesthetically pleasing floor for all Industrial, Commercial and Residential areas. The process consists of superior Husqvarna products and machinery to grind, chemically harden and polish the concrete floor finishing it with a penetrating sealer making it one of the hardest wearing flooring systems available.
The advantages of HiPERFLOOR polished concrete being grout free, hypo allergenic, stain and scratch resistant makes this the smart choice for a cost effective and low maintenance flooring option.
Acrylic
Hiperguard Acrylic Polished Concrete is designed to give the desired look of Polished Concrete at a lower cost. It is still strong, durable and stain resistant but as it is sealed with a topical sealer it will need to be reapplied every 3-7 years depending on traffic. This is a great option for someone that is looking for a more economical and short term flooring option but without compromising on the look. Hiperguard Acrylic can be applied to limited, partial and full stone exposures.
Outdoor
Honed Outdoor Polished Concrete is a versatile option that brings the natural look of Polished Concrete to the outdoors. With its high durability and smooth finish, it is suitable for driveways, alfresco, garages and pathways. The characteristics of Honed Outdoor Polished Concrete makes it pet and family friendly. We are also able to convert existing washed aggregate to Honed Polished Concrete by grinding the surface and removing the abrasiveness of the stone. This provides an easy cleaning, user friendly and practical outdoor flooring style.
Watch as we create your designer floor
Using the latest Husqvarna machinery along with our unique concrete polishing methods, we start transforming your concrete into a Designer Floor.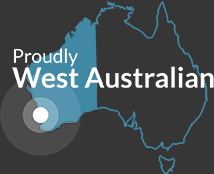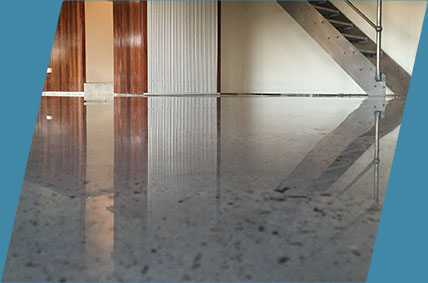 Alita Constructions regularly uses the services of Designer Floors WA and is always pleased with the quality of workmanship, professionalism and attention to detail. We would recommend Designer Floors WA to anyone requiring a high quality concrete polishing job in their home, office or industrial workshop.
- Alastair Kleyn, Director of Alita Constructions
My husband and I just moved into our home, our polished concrete is fantastic. We booked with Paul 9 months ago. This is the second home we have built and third we have owed and renovated, Paul is so professional and diplomatic , our floor was heavily cracked , Paul did an amazing job some of the best work man ship we have seen in trades while building over the years.
- Tane and Amber Edwards
Absolutely amazing concrete flooring specialist! Paul listened to our requests and totally delivered beyond our expectations.
We couldn't be happier and recommend Paul without hesitation as from start to finish he was a complete professional. Thank you!
- Tanee Wood
I was taken back by the finish, service and professionalism of the Designer Floor team.
Paul transformed the stained, cold and ugly concrete floor at my workplace in Daglish into a proud feature of the office. Clients come in everyday making comments on how the floor has transformed the space into a friendly, creative and interesting office.
On behalf of Birdbrain - Thanks guys for the awesome job!
- Glenn Langridge
Such great service and price. We are in love with our new floors in our bar extension.
- Clint and Tracey Passmore
I highly recommend Designer floors WA, they did a fantastic job, our floors look amazing.
- Liz Loreto
WOW - thanks so much Paul and team for an amazing job on our floors and your excellent service. Nothing was too much trouble and we are extremely happy with the result and how clean you left the job on completion. Anyone considering having polished floors we would thoroughly recommend Designer Floors as your first choice.
- Dianna Gorham
Paul transformed a standard concrete slab on a project I was overseeing and was very impressed by the quality of his workmanship and professionalism. I would recommend Designer Floors WA to anyone wanting Polished Concrete.
- Steve, Supervisor for Aveling Homes
Thank you for an amazing job! Everyone who has seen it has commented what a fantastic job never seen better!
- Sharon Marshall-Curtis
Thank you Paul, you did a fantastic job!! Looks incredible, exactly what I had pictured.
- Shaé Weightman