Honed Outdoor Polished Concrete
Honed outdoor polished concrete is a versatile material that can be used for a wide range of applications in residential and commercial landscaping. With a contemporary, minimalist aesthetic and the strength to withstand harsh weather conditions, it is suitable to use in driveways, alfresco areas, pathways, staircases, water features, pool areas, outdoor benches and much more.
Benefits
Hard-wearing material
Cost-effective
Minimal maintenance
Effective thermal properties
Slip resistant
BUILD FOR THE OUTDOORS 
Offering ultimate strength and durability, polished concrete is an ideal material to use in your outdoor areas. No matter whether it rains, hails or shines, your outdoor concrete features will remain strong and sturdy. As weeds are unable to grow through the surface, it offers an effective alternative to pavers and wooden decking in patio areas. It's also a great choice for driveways and pathways as it is able to endure ongoing tyre tread as well as high levels of foot traffic.
See more projects on our gallery.
DESIGNER FLOORS OUTDOOR CONCRETE SERVICES
If you're looking to incorporate polished concrete in your outdoors, get in touch Designer Floors today. We offer high quality concrete polishing and grinding services to homes and businesses throughout the Perth metro area. Our experienced team can also assist with polishing and grinding existing surfaces to restore your outdoor polished concrete features to their former glory.
A GOOD INVESTMENT 
There are also many financial benefits that can be gained from using outdoor polished concrete in your home or business. Designed for longevity, there are very few costs associated with honed concrete once installed, unlike timber, pavers and tiles that require ongoing maintenance and artificial grass or rubber flooring that needs to be regularly replaced. By adding concrete features to your outdoor area, you may also be able to increase the value of your property.
FAMILY & PET-FRIENDLY 
As there are no harmful chemicals involved in the manufacturing or installation of concrete, there's no need to be concerned for the health of your family or pets. Honed concrete is also suitable to use around pool areas given its smooth surface and the ability to use non slip additives.
WAYS TO USE OUTDOOR CONCRETE 
You really are only limited by your imagination when finding ways to use honed concrete in your outdoors. Here are a few applications that may be suitable for your landscaping design.
Driveways and entrances
Porches, patios and alfresco areas
Garden pathways, staircases and features
Garden planter boxes
Outdoor furniture, kitchens and benches
Poolside areas
Water features
Are you looking to spruce up your outdoor area, but are unsure of which flooring materials to use? While honed outdoor polished concrete may not have been your first thought, it will definitely enhance your landscaping design and leave a lasting impression.
Designed for strength and style, polished concrete is a fitting addition to any outdoor area. It provides a UV-resistant outdoor surface with a sleek and shiny finish that is both subtle and sophisticated. Very low on maintenance, outdoor polished concrete is also surprisingly comfortable underfoot, with thermal properties that allow it to regulate its temperature throughout all seasons.
Whether you're renovating, moving into a new home or looking to elevate your outdoor spaces, here are some ways to create a timeless look with outdoor polished concrete.
Driveways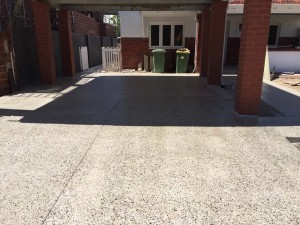 Pull up in style and gloss up the main entrance to your home with a honed concrete driveway. Our honing process involves using diamond blades to grind down the concrete surface to a desired level of smoothness which leaves a versatile, strong, and stunning finish. This will add value and longevity to your home.
The smooth finish of a honed concrete driveway also adds a modern flare to your property, whilst being a safe option for homes with children. When looked after correctly, honed polished concrete can last a lifetime.
To look its best, a concrete driveway simply needs to be pressured washed from time to time and resealed every few years.
The silvery tones of honed concrete can also add a lovely contrast to your front garden. Complement your driveway with greenery such as lawn, plants and hedges and your home will be set to impress any visitor.
Outdoor Entertainment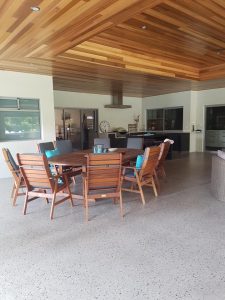 Nothing is more memorable than an outdoor area done right. Combine some outdoor furniture with your polished concrete and create a space that's appealing and comfortable.
With food and drinks often served in outdoor entertainment areas, honed concrete makes the perfect surface due to the ease in which it cleans. A simple pressure wash with water will get rid of any dirty areas made from food, beverages, shoes or any other scuffs that come from entertaining guests.
Outdoor concrete can also help keep you and your family cool in summer and warm in winter. It's easy to assume that concrete is always cold, but it actually contains heating and cooling properties that adapt to the weather.
Patios
Inspire your friends and family by finishing off your outdoor entertainment area with concrete flooring. With its minimalist style, outdoor polished concrete can create the impression of greater space and is ideal for those who like a clutter-free aesthetic.
A honed concrete patio can last for decades and retain its appearance even as it weathers. If you're looking for a patio that is both beautiful and durable, honed concrete is your best choice.
Alfresco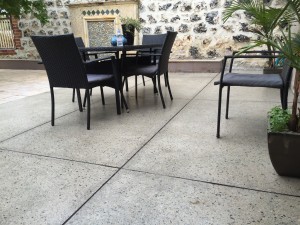 It's becoming more and more popular to blend interior design themes with outdoor living spaces. A beautiful alfresco can be styled to complement your home by using concrete in both areas. Create a sense of flow from inside to outside with concrete finishes such as benchtops and seating in addition to flooring. Finish the look off with stylish cushions and throws.
Porches and Decks
Turn heads by swapping out traditional wooden decks for polished concrete. This is a great weatherproof alternative that's much easier to maintain and far more durable. Having a polished concrete porch or deck is a great way to brighten up your home from the outside and give it an elegant, modern feel.
Create your own urban jungle by combining the look of natural stone, wood and greenery. Use polished concrete as a retaining wall for your plants or build your own dream terrace and add in your favourite flowers. Incorporate wooden textures through outdoor settings and accessories to complete the style.
Pool Areas
Swimming pools are usually the focal point in any outdoor entertainment area. Elevate your swimming pool design by implementing honed polished concrete around your pool area. Contrast the blue water of your pool with the grey, industrial style of your concrete. As outdoor polished concrete is weather resistant and comfortable, it's the perfect material to use in your swimming pool space.
Honed concrete pool area is a smart alternative to tiles or pavers—its smooth, matte finish adds beauty and value to your home.
Benefits of Honed Polished Concrete for your Outdoor Space
A honed concrete surface around your pool or outdoor entertainment area won't trap mould or bacteria easily.
No Weeds
Brick or paver flooring often grow weeds and mosses. Honed concrete is one large slab, leaving no
Durability
Honed concrete is a weatherproof, hard-wearing surface making it perfect for outdoor patios and pool areas.
Requires Little Upkeep and Maintenance
Honed concrete resists oils and other chemicals that may be used near a pool. Apart from being easy to keep clean, these floors require little maintenance.
Cost-effective
Honed concrete floors are as durable as outdoor Terrazzo and Granite floors, but at a much lower cost.
Aesthetic
Hone concrete floors are beautiful and unique, because they are imperfect and made of natural materials.
Interested In Outdoor Polished Concrete?
If you're ready to renovate or build your home with outdoor polished concrete, contact Designer Floors WA and get started on your landscaping goals today. Don't forget to check out our gallery to get inspired!
FAQs
Can you have polished concrete outside?
Yes, for the outdoors we offer honed polished concrete designed for the outdoor environment. With its high durability and smooth finish, it is suitable for driveways, alfresco, garages and pathways. The characteristics of honed polished concrete make it pet and family-friendly.
Is outdoor polished concrete slippery?
Polished concrete is no more slippery than other hard flooring surfaces such as vinyl, lino, marble or tiles. However, with outdoor polished concrete, we recommend any water or liquid spills be cleaned up as soon as possible for the prevention of accidents.
Can the sun damage the concrete?
When installed correctly by professionals, honed outdoor polished concrete is designed for strength and style, made to withstand the harshest weather conditions. It provides a UV-resistant surface with a sleek finish that is both weather-resistant and comfortable.