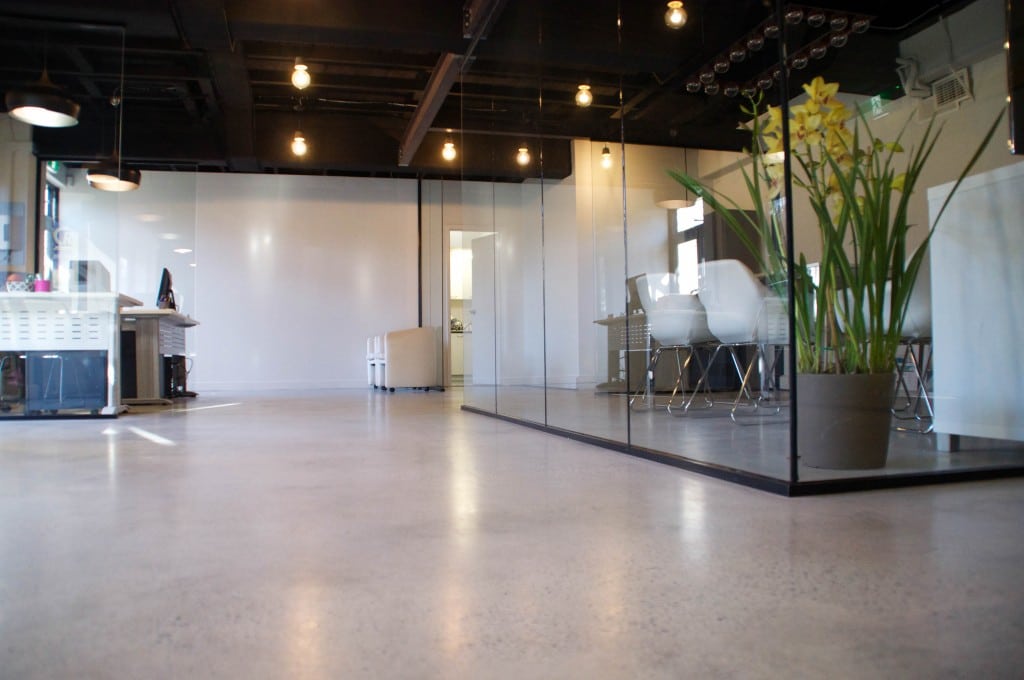 Gone are the days when polished concrete floors were solely reserved for industrial factories and warehouses. Given its sleek, minimalist aesthetic and wide range of practical benefits, polished concrete has become a popular choice for home and business owners alike.
Whether you're looking to refurbish your existing premises or a new commercial property, here's some of the reasons why you should seriously consider investing in polished concrete flooring.
Minimal Maintenance
As a commercial business owner, it's more than likely that you need to keep your shop floor open to the public on most days of the week, both for financial reasons and to accommodate your customers. It's not really an option for you to regularly close down your store to undertake maintenance works such as carpet steam cleaning or hardwood floor sanding and finishing.
Being such a strong and durable material, concrete requires very little ongoing maintenance. All your staff would need to do is run a dust mop over the surface to collect debris from foot traffic, then follow it up with a damp mop.
It's also very difficult to damage polished concrete, and unlike other flooring types, it takes much longer to show wear and tear, with a lifetime of around 10 years.
Related article: Benefits of polished flooring for retail spaces
Kinder to the Planet
Concrete is a natural product that's made from an aggregate of rock and stone. It doesn't require the use of harsh chemicals during the manufacturing process or for cleaning purposes. Overall, the environmental impact of concrete production is comparatively lower than many other flooring materials.
To the surprise of many, concrete also has a high thermal mass that allows it to retain heat in winter and remain cool in summer. When used indoors, it can lessen the need for heating and cooling, leading to a reduction in energy consumption.
Low Ongoing Cost
When making any decisions related to the upkeep of your commercial property, cost will always be a significant factor. While other flooring types may offer low upfront costs, you could easily find yourself paying for it in the long term, with the constant need to replace, repair and maintain the material. As concrete is quite literally built like a rock and possesses insulative properties, little expense is required throughout its lifetime.
Versatile Style
As the flooring in your retail space is a relatively permanent addition to your property, it's important to get the decision right the first time. The last thing you want is to choose a colour or material that fails to complement your décor or adapt to future changes. For instance, if your business undergoes a rebrand or a visual refresh, your shop fit out will undoubtedly be impacted, and you don't want to have to rip up your floors during this process.
With a neutral yet stylish look, concrete is a timeless design choice that complements a wide range of colours and themes. What's more, you can customise your commercial polished concrete floors to have your preferred level of sheen and aggregate exposure.
Professional Polish
First impressions count. When customers and important stakeholders enter your premises, you want to ensure that it's in tip top condition and looking its best. As it's easy to clean and shows very little wear and tear, you can always rely on your polished concrete floors to always reflect well on your brand and your business.
Safety First
Last, but not least, polished concrete provides a safe flooring option for commercial spaces. With slip-resistant and hypoallergenic properties, it will ensure the health and safety of your customers and team members.
If you think that polished concrete floors will be the right choice for your business or commercial space, contact Designer Floors WA today. We're Perth's polished concrete professionals with a proven track record for servicing commercial properties – see our commercial gallery.