Polished concrete is an eye-catching, stylish feature for the family home. With its durable, versatile and practical features, there is no question why concrete floors are the perfect flooring solution. Ideal for existing or new family homes, its natural feel and characteristics complete any interior design.
Polished concrete is fast becoming Perth's most popular hard flooring option, yet we keep hearing that a lot of people won't consider it for their home because the thought of walking barefoot on icy-cold concrete is off-putting. In fact, the opposite is true! Polished concrete is the ideal flooring solution for Perth families!
Polished Concrete Flooring and the Perth Climate
We all know how recently the weather in Perth can be cold one day and then a scorching 40 degrees the next. Concrete has thermal qualities that make it perfect for effective heating and cooling. Not only is it the perfect solution for the eco-conscious homeowner, it's the ultimate solution if you're looking to cut back on your power or gas bills.
The thermal mass and associated qualities of polished concrete floors mean they absorb heat (through direct sunlight) during the day, and then release it at night when outside temperature drops. During summer days, they keep your home cool, as it takes longer to heat up than other flooring options. It's perfect for the budget and the environmentally conscious family!
Polished Concrete Floors: The Stylish Solution for the Growing Family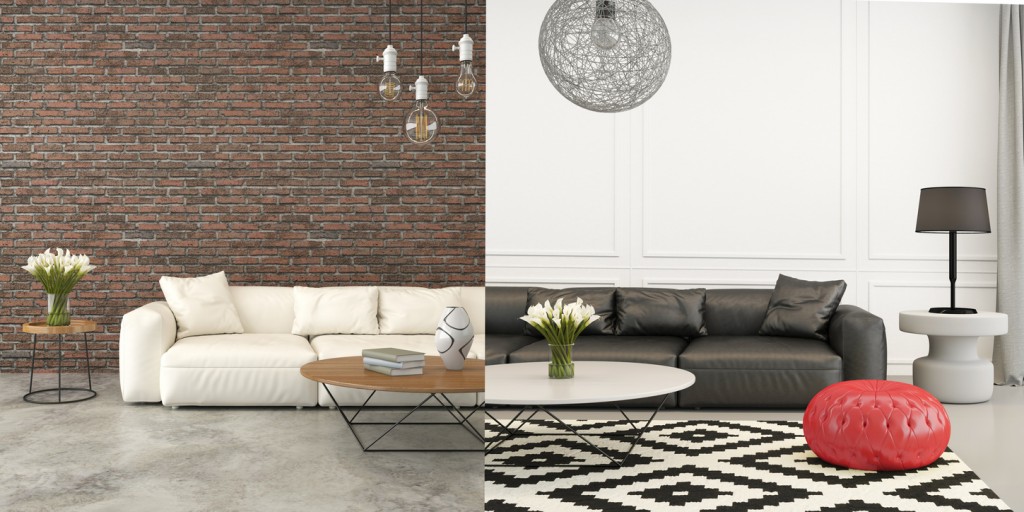 Every family needs something different from their home. There is something we all need but take for granted – a durable and easy to maintain hard floor solution that remains stylish as our family grows.
Many people think polished concrete a look that will take a lot of commitment. While there is no denying it is an eye-catching and striking feature, it makes updating the interior design of your home extremely easy! It lends itself to a wide variety of looks, making its styling versatile and adaptable. Just take a look at the image above, two looks that are styled in completely different ways, yet still look welcoming and inviting.
Whether you have a young family running around, or teenagers and their friends creating high-traffic areas, concrete floors are an all-round stylish and durable solution.
As Perth's premier solution for polished concrete, we can help you choose between the many options available. Our expertise can help you decide which solution works best for you. Find out more about our polished concrete process.
Living Room
Polished concrete can be polished and stained to achieve a range of looks from a matte finish to a high-gloss finish. It is a versatile option that can match any home design, making it a great option for living areas where aesthetics are important. Polished concrete floors are easy to maintain and will last for decades with proper care, so you can focus on enjoying your living room instead of worrying about upkeep!
Bathroom and Laundry
Polished concrete is resistant to water and moisture, making it a great option for bathrooms and laundry rooms where water and humidity are present. Polished concrete also doesn't support the growth of toxic mould, dirt, pollen, or dust mites, making it a great option for bathrooms where mould and mildew can grow easily.
Kitchen
Polished concrete is resistant to scratches, dents, and stains, making it a great option for high-traffic areas like kitchens where spills and stains can happen frequently. Polished concrete can be stained and polished to achieve a range of looks, colours, and finishes. This makes it a very versatile option that can match any kitchen design and style.
Children and Polished Concrete
Polished concrete floors are a practical solution for homes with children. They are quick and easy to clean and keep hygienic, making them perfect for the active and busy modern day family. Imagine how much time you could save cleaning up after dinner or art and craft time… or even when one of those dreaded bugs goes through the family!
You can relax, knowing you don't have to worry about dents, scratches, stains or any other signs of wear and tear.
Polished Concrete in Homes with Asthmatics and Allergy Sufferers
Polished concrete floors aren't porous. What does this mean? They're hypoallergenic and won't trap allergens, dust mites, mold, mildew, bacteria or moisture, making them the perfect flooring solution for homes with allergy sufferers and people with asthma, or other respiratory issues.
They are quick and easy to clean, allowing for a safe and comfortable environment, making them a great hard floor solution for the family homes of anyone who suffers from allergies, asthma and respiratory issues.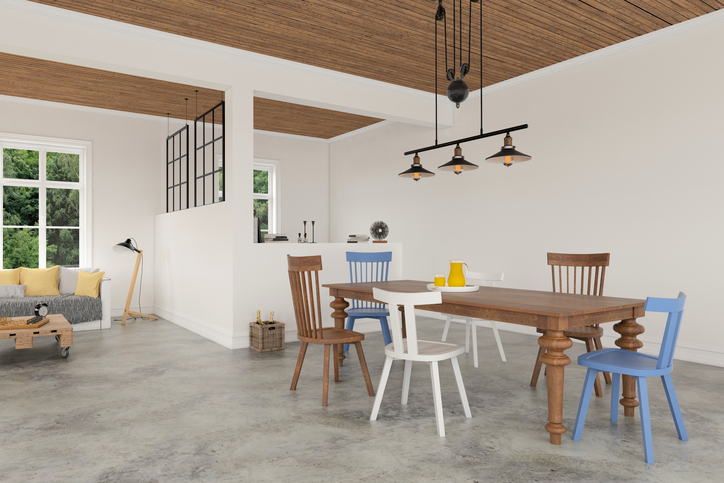 So, what can you take away from this? Are you still deciding whether or not to update your homes look and get concrete flooring? Let's settle the debate. They're the ideal solution for your home because they're a versatile solution that will adapt to your homes style, help your budget, your family's health, and they're eco-friendly! What more would you want?
If you're considering polished concrete floors for your new home or renovation project, contact us for your free measure and quote!