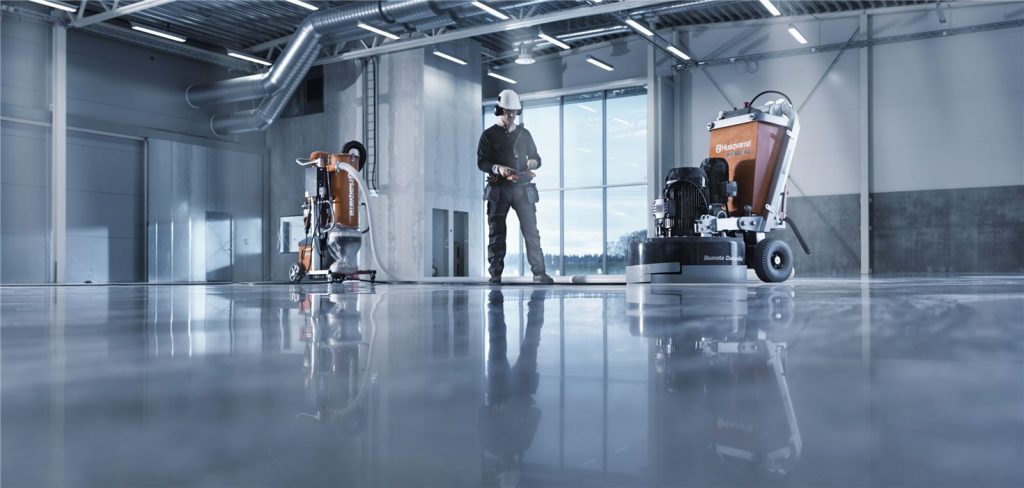 At Designer Floors, we can take almost any concrete surface and hone it into a beautiful, polished finish. Our mission is to provide the highest quality concrete grinding and polishing services in Perth, which means we need the best tools and equipment.
Not sure what concrete grinding is, or why it's important? Read more on our blog.
The HiPERFLOOR Difference
HiPERFLOOR by Husqvarna is a comprehensive concrete polishing and floor treatment system which results in attractive, durable concrete flooring that's suitable for all kinds of environments.
When grinding residential, commercial, industrial and even outdoor floors, we use Husqvarna's HiPERFLOOR PG 680 RC Floor Grinder, combined with advanced diamond polishing attachments and chemical treatments.
Husqvarna have been creating high-performance tools that are safe and easy to use for many years. By using their specialist equipment, we can restore even the most damaged concrete floors to deliver a smooth surface and a stronger final product.
Why We Choose Husqvarna HiPERFLOOR
There are many reasons why we rely on Husqvarna HiPERFLOOR at Designer Floors. Here are some of the top benefits to be gained from using their equipment.
Environmentally Conscious
The HiPERFLOOR installation and concrete grinding process produces minimal waste. The high reflectivity of HiPERFLOOR finished concrete also means that a little bit of light goes a long way, which can reduce your overall lighting costs and environmental impact.
Hyper Durable Floors
During the HiPERFLOOR process, we can radically transform your existing concrete floors. We use a chemical densifier and sealer to strengthen an already hard surface and make it near impenetrable. These chemicals work to increase scratch resistance as well as help protect the floor from stains that might occur in unpolished or unsealed concrete surfaces.
Better Air Quality
Our Husqvarna equipment allows us to dry grind floors safely. It's better for our team, as well as your family or employees. The combination of pore filler, densifier and sealer means your concrete floors will be resistant to mites, mould and dust. This means better air quality and hypoallergenic floors for your home or business.
Less Ongoing Maintenance
Although we treat and seal our concrete floors with Husqvarna products, there is no external coating applied during the HiPERFLOOR process. The results are smoother concrete surfaces and more durable flooring, which requires lower ongoing maintenance and cleaning costs. Not only that, polished concrete also has a longer life span than wooden or carpet floor alternatives.
Transform any Concrete Surface
Our Husqvarna concrete grinding equipment allows us to hone any concrete surface. We can grind your indoor floors as well as concrete counter tops and table surfaces. HiPERFLOOR honed floors can be polished in premium, commercial, or industrial finishes, meaning they can be installed anywhere, from high-end showrooms to commercial warehouses.
Get the HiPERFLOOR Finish
The HiPERFLOOR process means we are able to provide you with any level of aggregate exposure and gloss finish to suit your budget and preferences.
To find out more about concrete grinding services or for an obligation free quote, talk to us today.